We had 2 separate dressing rooms and somewhat far apart from each other. I was alone rehearsing and just trying to figure out/finalize my set list for the show.
If I remember correctly, I was singing "This Road" while playing my guitar. I heard a faint voice outside as though someone was vocalizing and singing licks down the hallway. In less than a minute, that same voice was right outside my door loudly saying, "oh my gosh, what? what in the world? what?!" I was just confused by the whole thing so I slowly opened the door and when I peeked - who I ended up seeing in front of me was…
Justin Nozuka…
You know, I've known some of his songs for a while now but not extensively. I've always been curious how he is live. I didn't doubt that he'd be a great performer but other than that, I didn't know what to expect at all…
Right when we met, he "made" me sing to him. We talked for a while and jammed. For about 2 hours before the show started, him and his guitarist spent more time in my room than theirs.
And the first couple of sentences that came out of him were, "I want to sing with you," "Let's do a song together tonight," and "…I want to help you out as much as I can." The compliments were just flowing out of him and I couldn't be any flattered than I was in that very moment. 
The point of this post isn't to boast that I met the guy, sang with him, opened for him, or what not. The point is, this is why music is so rewarding - not because I can "show-off" my skills to fans. It is rewarding because one, yes - I do get to share music (my heart) with people/fans/supporters and second, just like what happened tonight, - I get to meet kindred spirits like Justin… who want to listen and absorb their surroundings - the world, dreams, and who are not afraid to express themselves. His compliments wasn't to merely boost my ego for some "music business gain" because I genuinely felt that he was just appreciative from his gut. I love that. 
…and believe it or not… The compliments were nice but what I appreciated most was when he said…
"Melissa, I want to know your story…tell me more…"
The best.
Enough with philosophy, here's a picture: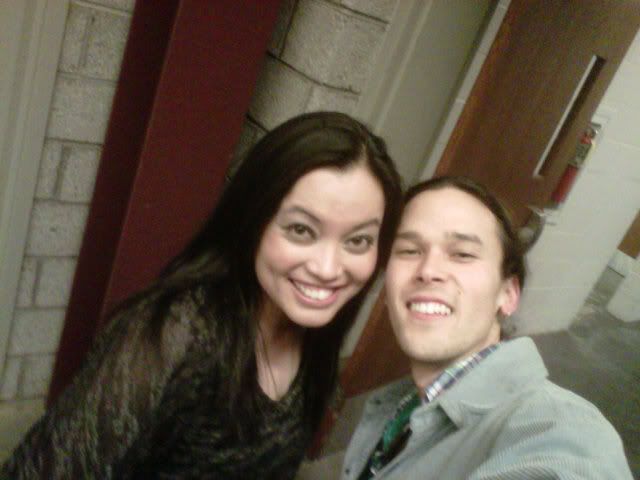 Great night. Great music. Great people. Great life. Great moment in my life. 
I'm blessed.
-mp